the Powder that tears fleas and ticks! 
Diatomaceous earth for dogs and cats, the dust that tears fleas and ticks! we had already mentioned in the page dedicated to  natural pesticides,  of food grade Diatomaceous earth to be integrated with pet food, in this article we will see how diatomaceous earth can be used for external use against fleas and ticks for dogs and cats, it can be applied to the skin of the animal or used for the natural disinfestation of environments: home, cellars, garage, garden.
Treating worms in cats dogs with diatomaceous earth
Diatomaceous Earth also called diatomaceous earth or diatomaceous earth or diatomite or kieselguhr is a siliceous sedimentary rock of organic origin and is the fossilized remnant of microscopic algae diatom family. It is used in various sectors from organic farming to enology.
Diatomaceous earth is a natural insecticide
Its powder of natural origin composed of fossil skeletons of microscopic marine algae exerts a MECHANICAL insecticidal action thanks to the very sharp micro particles. It protects us naturally against many crawling insects and parasites such as lice, fleas, ticks, bedbugs, cockroaches, ants, silverfish etc.
Diatomaceous earth for dogs and cats How to use it and where to buy it
Diatomaceous earth for dogs and cats can be used externally when we have to use it as a natural pesticide against fleas and ticks, in this case it is preferable to buy food grade one like this which has a good quality diatomaceous earth. 
if you want to use diatomaceous earth as a pesticide, follow these steps:
Sprinkle diatomaceous earth all over the animal's body (dry hair) directly on the skin, (Tip: you can use a table salt spreader) you can also apply it three times a week, if the animal licks itself, don't worry, it's not harmful , the only precaution is that of protection: and being a very fine powder during application it is advisable to protect the eyes, nose and mouth of the dog and cat as it can cause slight irritation.
I take it as a food supplement of silicon in powder or capsule form.
How to get rid of ticks from the garden
Let's create a citrus-based repellent
Cut lemons, oranges or grapefruits into small pieces, boil in water for about a minute, then simmer for an hour. Diatomaceous earth can be added to the mixture if desired. This compound can be sprayed with a knapsack pump.
Use specific neem oil for plants, always to be used with a backpack pump.
How to use diatomaceous earth for home and garden disinfestation
In home:
Use  Diatomaceous Earth for food-grade dogs and cats (visible  here ) on the skin and for the treatment of kennels, cushions and where the animal stays.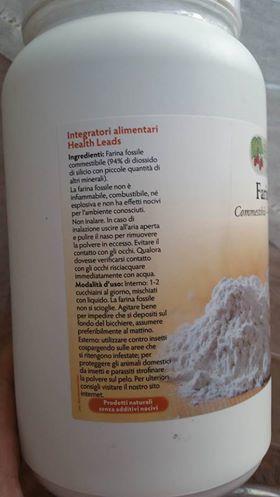 Use diatomaceous earth like this for pest control of your home, carpet, car and garden. Diatomaceous earth is very difficult to find, do not buy the one intended for use in swimming pools or used in the oenological field.
Diatomaceous earth should be sprinkled on carpets, in corners of the house, near baseboards, cracks and floors, edges of windows, undersides of doors, behind cabinets, under sinks.
Diatomaceous earth what is the dose for disinfestation at home
For the disinfestation of carpets, carpets and the environments where pets stay: sprinkle on the areas to be treated and leave it for up to 5 days, then vacuum to remove dust and dead insects. Repeat the operation after 10 days. Diatomaceous earth Dosage: 10-20 g / m²

In the garden, however, it is useful against plant parasites and also against ticks and fleas. For insects it is a deadly dust, its razor-sharp and microscopic edges cut the protective coating of insects dehydrating them and causing their death.
How diatomaceous earth should be used for garden disinfestation
Insects cannot develop resistance unlike synthetic insecticides, diatomaceous earth is harmless to pets and humans.
For plants or in the garden, mix diatomaceous earth with water, spray approximately 5% solution on plants and vertical walls, or you can sprinkle it in the ground and around the plants as Diatomaceous earth is compatible with organic farming. Diatomaceous earth Dosage: 10-20 g / m².
---
Disclaimer: The contents are for informational purposes only and under no circumstances may they constitute a prescription for treatment or replace the specialist examination or the direct relationship with one's veterinarian/medical practitioner.  All the information reported here is derived from Bibliographic Sources, Personal Experience and Public Domain Clinical Studies. All information on special diets and dietary supplements for pets is for information purposes only. This information serves as a general guideline, cannot be applied to all pets or considered as an alternative to professional advice.