Inulin is a sugar but with a glycemic index very low formed by fructose chains and a glucose molecule.
Inulin Properties cats dogs
Thedietary fiber and fructo-oligosaccharides (FOS), obtained by hydrolysis of inulin of vegetable origin, are now recognized as "prebiotics", favorably modify the composition of the intestinal microbiota, stimulate the growth and metabolic activity of Bifidobacteria and Lactobacilli with saccharolytic metabolism. Inulin facilitates digestion, reduces intestinal gas.
Helps regulate intestinal transit
Strengthens the intestinal bacterial flora
Eliminate toxins from the intestines
It favors the slimming
Modulate the microbiota to produce less nitrogen waste in case of chronic renal failure
By the action of intestinal bacteria, the inulinturns into acids short-chain fats
Restores the intestinal bacterial flora damaged by antibiotics, drugs, vaccinations, stress, wrong diet
Relieves intestinal inflammation
Increases the fecal mass and the number of bowel movements
It reduces the levels of glucose, cholesterol and triglycerides in the blood
Reduces excess weight by modulating the glucagon-like peptide (GLP – a hormone produced by the intestine that stimulates insulin secretion and inhibits the secretion of glucagon by the pancreas)
It can be used as a substitute for sugar, a natural sweetener that does not produce insulin spikes

It represents a valuable nutrient substrate for the growth of bifidobacteria

Helps strengthen a healthy intestinal flora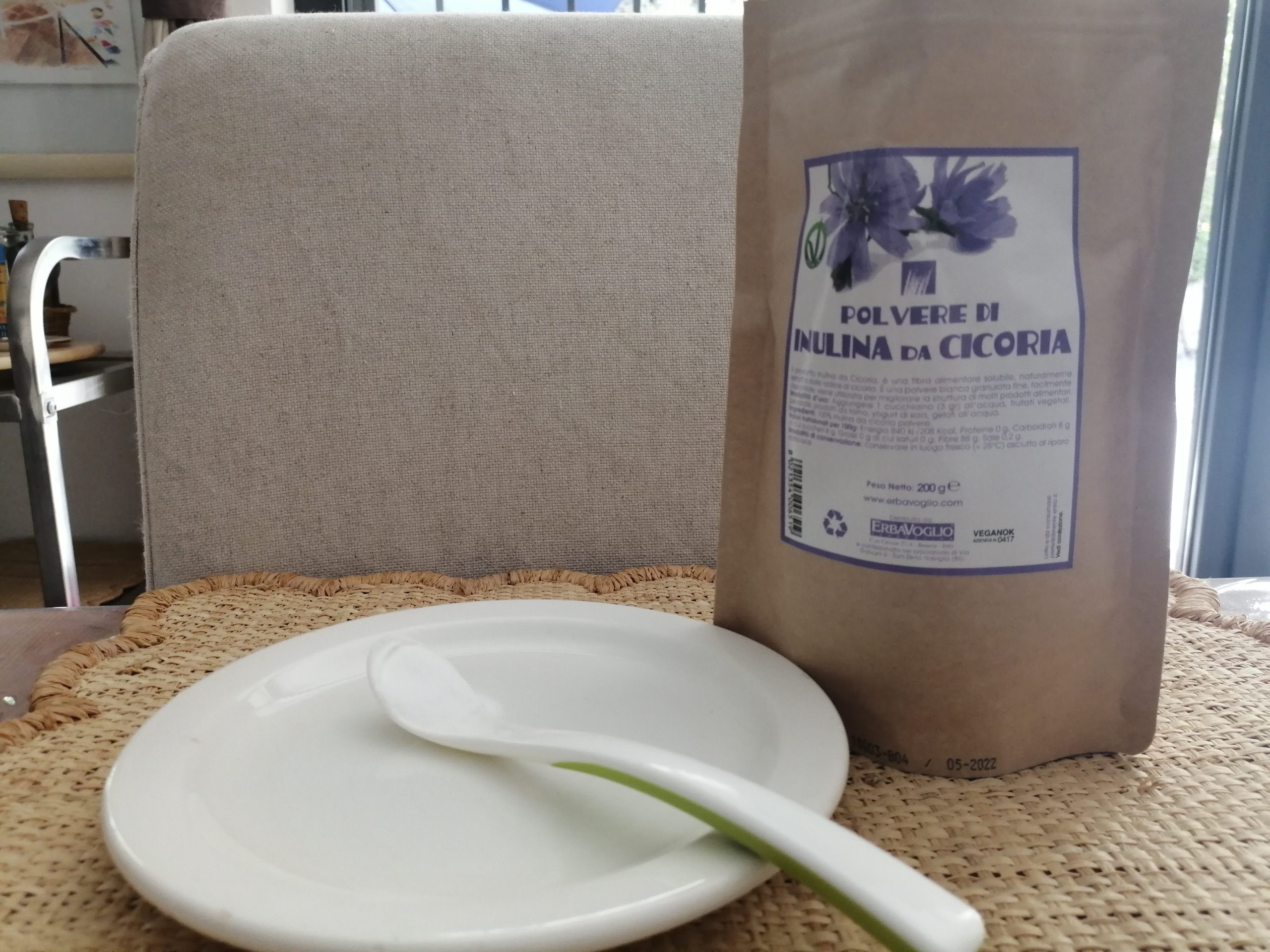 Inulin modulates
the microbiota of the dog and cat to cause it to produce fewer uremic toxins
Recent studies show that the concentrations serum of PCS and IS are reduced by oral intake of inulin. Thanks to the metabolic release of short-chain fatty acids.

Inulin reduces nitrogen uptake, also reducing nitrogen waste load a

renal level.
Inulin in addition to reducing theabsorption of nitrogen and nitrogen waste helps to control constipation in cats and dogs, without irritating the intestine and without accelerating intestinal transit. It can be dissolved in water and given with a syringe to the cat or added to the bowl, or it can be mixed with pet food. It is soluble in both cold and hot conditions and perfectly tolerates cooking. At the recommended doses, it can also be taken by children, pregnant women and people with common intestinal disorders (diverticulosis, inflammatory bowel disease, intestinal dysmicrobism). For my pets, I use the Chicory Inulin powder from controlled organic farming.
Disclaimer: The contents are for informational purposes only and in no case can they constitute the prescription of treatment or replace the specialist visit or the direct relationship with your veterinarian / doctor. All the information reported here derives from Bibliographic sources, personal experiences, and clinical studies in the public domain. All information on special diets and food supplements for pets is for informational purposes. This information serves as a general guideline, cannot be applied to all pets or considered as alternatives to professional advice. These pages include "Homeopathic preparations of efficacy not scientifically validated and without approved therapeutic indications. The products are not intended as a substitute for a varied and balanced diet and must be used as part of a healthy lifestyle.