Synchro Levels an extraordinary supplement that I have been using for almost 8 years … many years have passed but the research and studies on Synchro Levels continue …
Synchro levels dog cat tumor, Zebrafish is a tropical fish whose embryonic extract makes the diseased cell less aggressive. Several twenty-year studies have shown that the embryo, at very precise moments of its development, produces a series of proteins that are able to block the "bad" cells. Zebrafish does nothing but promote cell differentiation.
The extracts of Zebrafish, a tropical fish that has about 80% of the genes in common with humans, are already used today by various hospitals and various cancer specialists.
As for some cancers, such as hepatocarcinoma, the results achieved indicate that 36% of patients respond to the therapies, of which about half obtain a complete response, in the sense that the disease at the next radiological control is no longer detectable in the patient's body.
Synchrolevels Cat Dog
DISEASE CELL / ZEBRAFISH / LESS AGGRESSIVE CELL
The Italian discovery after 20 years of research allows us to evaluate other therapeutic approaches against cancer!
To be integrated into case of
Cancer (not just the liver)
Lymphoma
Neoplasms
Neoplastic cachexia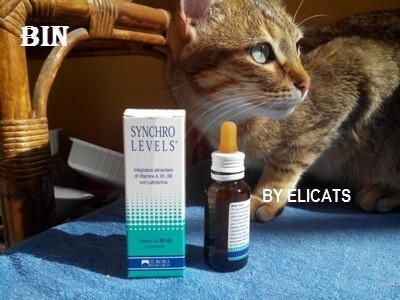 Synchro levels dog cat tumor and neoplastic cachexia
The product based on Zebrafish is called Synchrolevels, is called a multivitamin supplement, as well as the Zebrafish embryo contains important vitamins such as A and B. It is a supplement used in humans to improve neoplastic cachexia and slow down tumors, studies have shown that embryonated Zebrafish eggs are able to rebalance the altered metabolic conditions in patients with advanced cancer. Contains a percentage of alcohol.
I used the Synchro levels in drops (year 2013) for my cat, the product is alcoholic and it is necessary to do a double administration within 10 minutes

Year 2016 – THE SYNCHROLEVELS ORAL SPRAY IS MARKETED – Spray dispenser 30ml

The new Synchrolevels spray is available which replaces the drop type.
Synchrolevels Spray is a food supplement based on Vitamins A, Vitamin B1, Vitamin B6, Methionine, and Selenium, indicated for the general well-being of the organism, with antioxidant action useful in states of deficiency of the nutrients it contains.
Composition
Vitamin B6 3mg; Vitamin B1 1.50mg; L-Cysteine ​​1.50mg; L-Methionine 0.30mg; Vitamin A 300mcg; Conjugated Linoleic Acid 0.30mg; Selenium 16.5mcg.
---
Synchro Levels Humanitas
Syncro Levels updates year 2018
A NEW STUDY ON THE SYNCHRO LEVELS SUPPLEMENT IS STARTED TO SUPPORT LIVER CANCER TREATMENT – IRCCS Humanitas in Milan has approved a clinical study to investigate the contribution of the Synchro Levels supplement in the treatment of tumors. The study was proposed by the director of the Operative Unit of Hepatobiliary and General Surgery, Prof. Guido Torzilli, after numerous observations related to the clinical use of Synchro Levels, a poly vitamin supplement enriched with fish peptides.
Bibliography:
Cucina, A., Biava, PM, D'Anselmi, F., Coluccia, P., Conti, F., Di Clemente, R.,… & Bizzarri, M. (2006). Zebrafish embryo proteins induce apoptosis in human colon cancer cells (Caco2). Apoptosis, 11 (9), 1617-1628.
Biava, PM, Bonsignorio, D., & Hoxha, M. (2001). Cell proliferation curves of different human tumor lines after in vitro treatment with Zebrafish embryonic extracts. JOURNAL OF TUMOR MARKER ONCOLOGY, 16 (3), 195-202.
D'Anselmi, F., et al. "Zebrafish stem cell differentiation stage factors suppress Bcl-xL release and enhance 5-Fu-mediated apoptosis in colon cancer cells." Current pharmaceutical biotechnology 12.2 (2011): 261-267.
Livraghi, Tito, et al. "Treatment with stem cell differentiation stage factors of intermediate-advanced hepatocellular carcinoma: an open randomized clinical trial." Oncology Research Featuring Preclinical and Clinical Cancer Therapeutics 15.7-8 (2005): 399-408.
Canaider, S., et al. "Human Stem Cell Exposure to Developmental Stage Zebrafish Extracts a Novel Strategy for Tuning Stemness and Senescence Patterning." CELL R4 2 (2014): e1226.
Olumi, AF, et al. "Biava PM, Bonsignorio D & Hoxha M. J Tumor Marker Oncol (2001), 16: 195-201. J. Tumor Marker Oncol. (1977), 4 1 9-15. " Tumor Marker Oncology 5915002 (1999): 54.
Disclaimer: The contents are for informational purposes only and in no case can they constitute the prescription of treatment or replace the specialist visit or the direct relationship with your veterinarian/doctor. All the information reported here derives from Bibliographic sources, personal experiences, and clinical studies in the public domain. The information disseminated on the site is published after careful checks of the sources, chosen with care and updated and official as far as possible. All information on special diets and food supplements for pets is for informational purposes. This information serves as a general guideline, cannot be applied to all pets or considered as an alternative to professional advice. In These Pages are inserted and presented alternative therapy and homeopathic remedies of efficacy not scientifically validated and without approved therapeutic indications. The products are not intended as a substitute for a varied and balanced diet and must be used as part of a healthy lifestyle.