We explain why it can stimulate further viral reactivation. Lysine has been used for several years and is recommended by those working in the veterinary sector and beyond;
The feline herpesvirus, often manifests itself in association with the calicivirus , the FeHV-1 behaves like a typical alphaherpesvirus according to which the clinically recovered cats become carriers of latent infection for the whole life with periodic episodes of reactivation of the virus, in particular after a stress.
Feline Herpesvirus Symptoms
Acute viral rhinotracheitis (sneezing, nasal and ocular serous secretion)

Temperature

Anorexia

Serous conjunctivitis and mucopurulent form

Corneal ulcers

Herpetic keratitis

Permanent prolapse of the third eyelid

Inflammation of the nasal turbinates
Take a look at
dog cat fever NO drugs for human use Fepyr + Sin 45
Less frequent are cutaneous and oral ulcers compared to calicivirus infection, in the chronic phases of feline herpesvirus we see: herpetic dermatitis, rhinitis, sinusitis and chronic bacterial conjunctivitis.
Herpesvirus- induced herpetic dermatitis is localized on the face and on plantar pads, manifested by buccal and corneal ulcers, characterized by erosions and crusts associated with varying degrees of erythema, exudation and swelling. In many cases the lesions may initially be confused with eosinophilic granuloma lesions.
Lysine Herpesvirus cat
Lysine supplementation is not effective for the prevention or treatment of herpesvirus infection in cats.
Lysine is an essential amino acid, it helps pets to produce antibodies and enzymes that support the immune system, indispensable for calcium absorption and to promote wound healing .
L-lysine has been used and continues to be prescribed by 90% of veterinarians to reduce the severity and duration of the feline herpes virus, recent studies establish that lysine can stimulate viral reactivation.

As always, what sets us apart is to provide updated information that is indispensable for the care of our little friends.
In a recent study the effect of lysine was evaluated in 144 cats in a shelter, 28 cats received 250 mg (kittens) or 500 mg (adult cats) of lysine, once a day for the duration of their stay at the shelter, the results were compared with those of an untreated control group.
The dietary supplementation of lysine in the amount used in the study was not an effective means to control respiratory disease, rather it resulted in an increase in disease severity and in the incidence of FHV-1 DNA detection in oropharyngeal or conjunctival swab specimens
There is multi-level evidence that lysine supplementation is not effective for the prevention or treatment of feline herpesvirus 1 infection in cats .
L-lysine did not prevent cats from becoming infected with FHV-1

L-lysine did not prevent relapses of FHV-1 and its symptoms

There is no evidence that L-lysine can relieve FHV-1 and its symptoms

Frequent use of L-lysine as a supplement lowers arginine levels (attention)
Effects of L-lysine and L-arginine on the replication of feline herpesvirus
Studies confirm that lysine works by lowering arginine levels, lowering arginine levels is highly undesirable because cats cannot synthesize it on their own and a deficiency causes hyperammonemia, which can be fatal.
L-arginine is an essential amino acid for cats , is responsible for renal filtration , is involved in the urea cycle and its deficiency causes hyperammonemia.
Deficiency symptoms
Sudden hypersalivation

He retched

Diarrhea

Muscle spasms

Ataxia (the cat has no more control over its body)

Coma
Arginine is present in all foods of protein origin:
Beef

Rabbit

Chicken

Milk

peas

Seafood
Take a look at
Homemade Diet for Cat Proteins and Biological Value
Take a look at the
homemade dog cat diet [Flakes and Pops]
Arginine exerts a substantial growth-promoting effect on FHV-1, supplementation with lysine could reduce FHV-1 replication only when there are low concentrations of arginine . Further studies will be needed to determine whether supplemental lysine administration, with or without arginine restriction, will be useful in the management of cats with FHV-1 infections. ( Am J Vet Res 2000; 61: 1474-1478).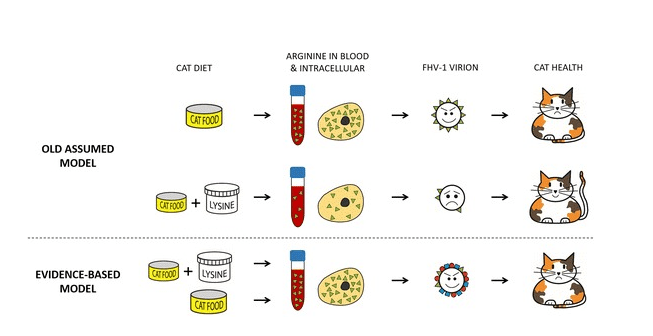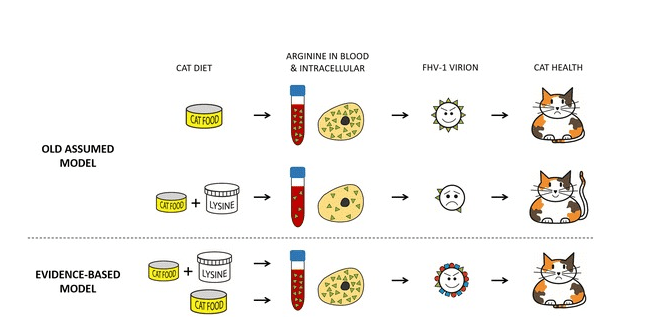 Lysine cat herpes Side effect

L-lysine supplementation can interfere with some antibiotics and increase toxicity. Cats with digestive disorders, Colitis, IBD and ulcers, may get worse while taking lysine. Do not administer in case of diabetes, kidney disease, kidney and gallstones, liver diseases.
Lysine cat side effects
Allergies, breathing difficulties, dizziness and rashes, vomiting, nausea, diarrhea can occur.
THE CONTENT ON THIS WEBSITE IS TO BE USED FOR INFORMATIONAL PURPOSES ONLY. YOU ACKNOWLEDGE THAT THE CONTENT IS IN NO CASE TO BE USED AS A SUBSTITUTE FOR PROFESSIONAL MEDICAL ADVICE OR ADVICE FROM VETERINARIANS, NOR IS IT INTENDED TO BE RELIED UPON BY ANY PERSON OR ENTITY FOR PURPOSES OF MEDICAL DIAGNOSIS OR TREATMENT . IN NO CASE CAN BE USED AS A PRESCRIPTION OF A TREATMENT OR REPLACE A SPECIALIST EXAMINATION OR THE DIRECT RELATIONSHIP WITH YOUR VETERINARIAN/DOCTOR
Bibliography:
Bol S, Bunnik EM. Lysine supplementation is not effective for the prevention or treatment of feline herpes virus 1 infection in cats: a systematic review. BMC Vet Res. 2015 Nov 16; 11: 284. doi: 10.1186 / s12917-015-0594-3. PubMed PMID: 26573523; PubMed Central PMCID: PMC4647294.
Maggs DJ, Sykes JE, Clarke HE, et al. Effects of dietary lysine supplementation in cats with enzootic upper respiratory disease. J Feline Med Surg 2007; 9 (2): 97-108.
Drazenovich TL, Fascetti AJ, Westermeyer HD, et al. Effects of dietary lysine supplementation on upper respiratory and eye disease and detection of infectious organisms in cats within an animal shelter. Am J Vet Res 2009; 70 (11): 1391–400
Stiles J, Townsend WM, Rogers QR, et al. Effect of oral administration of lysine on conjunctivitis caused by feline herpes virus in cats. Am J Vet Res 2002; 63 (1): 99-103.
Maggs, David J. "Antiviral therapy for feline herpes infections virus." Veterinary Clinics: Small Animal Practice 40.6 (2010): 1055-1062.
Nicholas J.   Cave , BVSc, PhD ; Kathryn   Dennis , PhD, BVSc ; Gaya   Gopakumar , MSc ; Magda   Dunowska , DVM, PhD. (2014) Effects of physiological concentrations of in vitro replication of feline herpes virus 1. American Journal of Veterinary Research 75 : 6, 572-580. Online publication date: 27-May-2014.
Maggs, David J., et al. "Effects of L-lysine and L-arginine on in vitro replication of feline herpes virus type-1." American Journal of veterinary research 61.12 (2000): 1474-1478.
Drazenovich, Tracy L., et al. "Effects of dietary lysine supplementation on upper respiratory and eye health and detection of infectious organisms in cats within an animal shelter." American journal of veterinary research 70.11 (2009): 1391-1400