Omega 3 Chronic Kidney Disease
Omega-3s are known to increase the speed of glomerular filtration, The renal blood flow, and reduce glomerular hypertension.
How to improve filtration speed with natural cures
This article is the result of personal and direct experience, I have been using Omegor for me and my pets for almost 20 years; thanks to my dissemination on the net they are chosen by pet owners as a constant integration in progress chronic renal failure in cats and in the dog. They must be dosed by the veterinarian and the possible and simultaneous integration of Reishi, Cordyceps and ACE inhibitors must be taken into account. 😉

For me they are the best pure Omega 3s with IFOS certification, for those who won't give omega 3 to the cat or the dog must be dosed Omegor at the vet.
Omega 3 human use for dogs
For 19 years faithful to Omegor omega 3 fatty acids, I am omega 3 for human use that I have always used for my dogs and cats!
In humans, 5 grams per day of EPA + DHA are usually not exceeded!
EFSA provides precise information, in this regard I point out the following information for human use
to promote the proper functioning of the heart it is necessary that they provide 250 mg of EPA + DHA per day.
to maintain normal blood pressure it is necessary that they provide 3 grams of EPA + DHA per day;
to keep the triglycerides in the norm it is necessary that they supply 2 grams of EPA + DHA per day;
IN HUMAN: EFSA recommends not taking doses of EPA + DHA greater than 5 grams per day with supplements.
The Omegor dosage must be validated by the vet, the dosage must be almost "pharmacological" – I recommend that you print the paragraph above and have the correct dosage done by the vet. Omega should be administered with a substitute dosage to anti-hypertensive therapy (instead of Ace inhibitors) and also to improve glomerular filtration (if we increase the filtration the cat expels + toxins)
IFOS certified VS Omega 3 fish oil
Fish oil should not be used in case of allergies to its components. Omega-3 fatty acids should not be given together with anticoagulant drugs without first consulting the veterinarian, discontinue before surgery, If poor quality omega-3 fish oil is administered, some animals may develop pancreatitis.
Omega 3 dog Omega 3 Chronic Kidney Disease
The omega 3 for dog kidney failure and cat: improve the residual function of the kidney, lower the blood pressure, reduce the inflammation, have a therapeutic role in reducing the proteinuria in patients with chronic glomerular disease. The omega 3 senior dog they are necessary and indispensable.
Omega 3 fatty acids in cats and dogs play a fundamental role in controlling inflammation: studies show how important we are in the case of atopic dermatitis, eosinophilic granuloma, Malassezia, rheumatoid arthritis, in chronic renal failure, glomerulonephritis (Brown, Scott A., et al. "Beneficial effects of chronic administration of dietary ω-3 polyunsaturated fatty acids in dogs with renal insufficiency. " Journal of Laboratory and Clinical Medicine 131.5 (1998): 447-455.
Omega 3 OMEGOR Pure fatty acids with IFOS certification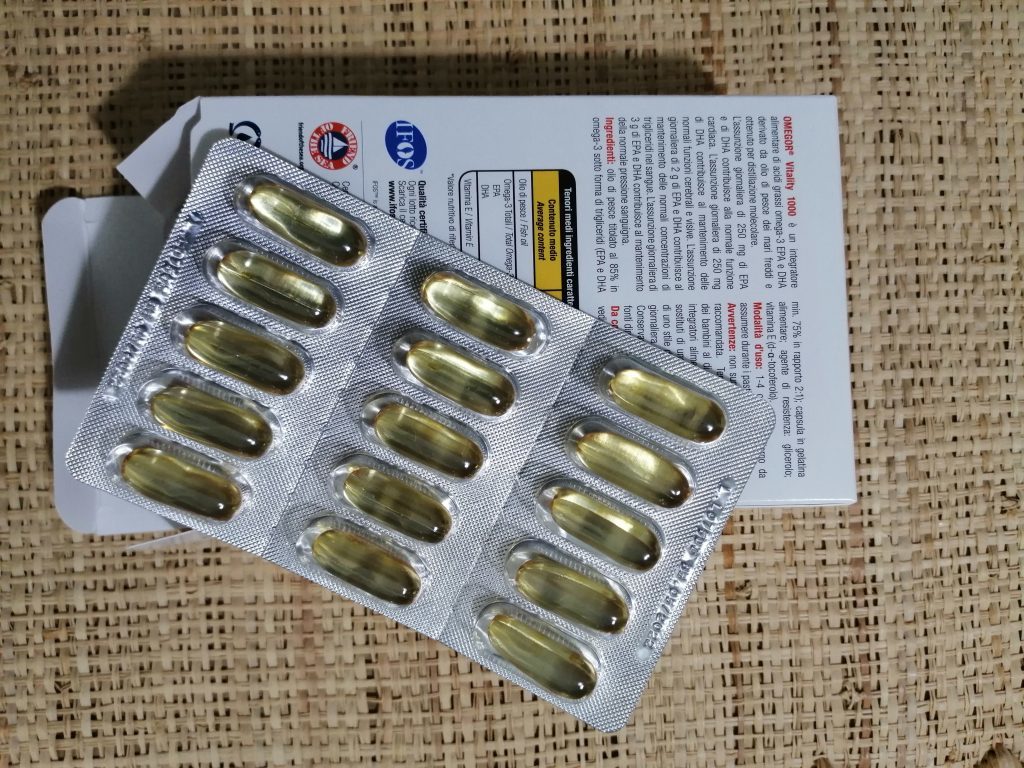 IFOS certification (International Fish Oil Standard, International Standard for Fish Oil Products)
100% pure (free from heavy metals and mercury) obtained by molecular distillation which guarantees purity and concentration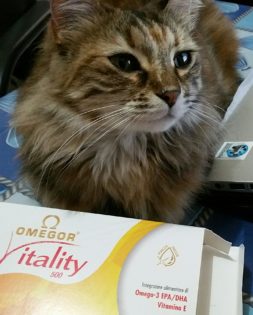 Omega 3 fatty acids for cats
You want to deepen the topic of omega 3 fatty acids for cats or are you looking for information on omega 3 for dogs what they are for, you can do it by following this link.
Disclaimer: The contents are for informational purposes only and in no case can they constitute the prescription of treatment or replace the specialist visit or the direct relationship with your veterinarian/doctor. All the information reported here derives from Bibliographic sources, personal experiences, and clinical studies in the public domain. The information disseminated on the site is published after careful checks of the sources, chosen with care and updated and official as far as possible. All information on special diets and food supplements for pets is for informational purposes. This information serves as a general guideline, cannot be applied to all pets or considered as an alternative to professional advice. In These Pages are inserted and presented alternative therapy and homeopathic remedies of efficacy not scientifically validated and without approved therapeutic indications. The products are not intended as a substitute for a varied and balanced diet and must be used as part of a healthy lifestyle.