Omega 3 fatty acids for cats and for the dog, they are defined as "essential" because they cannot be synthesized, so they must be added to the diet.
Omega 3 fatty acids cat dog what to know
The omega 3 fatty acids for cats are fundamental in the structure of cells, necessary for the production of some hormones, favor the absorption of fat-soluble vitamins, protect internal organs, fight inflammation.
Essential fatty acids (EFAs) or polyunsaturated fatty acids (PUFAs) are divided into two categories:
Omega 3 (n-3)
Omega 6 for (n-6)
What are Omega 3 polyunsaturated fatty acids
L 'alpha-linolenic acid o linoleic (ALA)
Eicosapentaenoic acid (EPA)
Docosahexaenoic acid (DHA)
Omega fatty acids how to choose them
Not all omega 3 fatty acids are the same, let's see the essential ones for the cat and the dog.
The only foods rich in omega 3 fatty acids that animals can metabolize and use properly are fish (mackerel, sardines, salmon), plankton and krill, the latter also contains the powerful anti-inflammatory astaxanthin.
Omega 3 fatty acids are, EPA, DHA, ALA
EPA AND DHA: come from fish, krill
ALA: comes exclusively from a plant source such as linseed oil and all vegetable oils in kind such as soybean oil, corn, flax, evening primrose.
This distinction is very important because cats and dogs do not have sufficient enzymes to convert ALA into EPA
Omega 3 fatty acids when to administer them
It is important that the omega 3 for cats and dogs are free from heavy metals (mercury, lead, and pollutants), Omega-6s are pro-inflammatory, pro-platelet aggregators and vasoconstrictors, the Omega-3s are anti-inflammatory, anti-platelet aggregators, and vasodilators.
After this clarification, let's see in detail only EPA and DHA, that is the omega 3 fatty acids to be integrated into the diet.
Omega-3s (EPA) – (DHA) play a vital role in controlling inflammation
Miliary dermatitis
Eosinophilic granuloma
Malassezia pachydermatis
Rheumatoid arthritis
Glomerulonephritis
Heart problems
Allergies
Inflammations
They slow down the onset of metastases in some tumors
Atopic dermatitis
Omega 3 for dogs
Dermatitis
Inflammation of the skin
Itching and dandruff
Omega 3 in renal insufficiency
The omega 3 for cat and dog kidney failure, improves the residual function of the kidney, lowers the blood pressure, reduces inflammation.
They play a fundamental role in the control of inflammation: studies show how important we are in the case of atopic dermatitis, eosinophilic granuloma, Malassezia, rheumatoid arthritis, chronic renal failure, glomerulonephritis – the supplementation with ω-3 PUFA was renoprotective!
Ref: Brown, Scott A., et al. "Beneficial effects of chronic administration of dietary ω-3 polyunsaturated fatty acids in dogs with renal insufficiency. " Journal of Laboratory and Clinical Medicine 131.5 (1998): 447-455.
Omega-3 human use for dogs
Because I have been choosing for myself and my cats and dogs for 19 years omega-3 for human use?
Omega 3 renal failure cat 19 years faithful to Omegor!
Omegor are pure, IFOS-certified pharmaceutical-grade omega-3 fatty acids.
With IFOS certification (International Fish Oil Standard, International Standard for Fish Oil Products)
100% pure (free from heavy metals and mercury) obtained by molecular distillation which guarantees purity and concentration
The program IFOS(the only one to be dedicated exclusively to fish oil) certifies purity, freshness is the concentration of fish oil supplements by testing them batch by batch. The evaluations concern:
the amount of EPA + DHA compared to that shown on the label;
the presence of contaminants (polychlorinated biphenyls – PCBs – total, dioxins, furans, and dioxin-like PBCs) and heavy metals (mercury, lead, total arsenic, cadmium)
the stability of the product
IFOS certified fish oil can be assigned a maximum of 5 stars, each corresponding to a specific criterion between:
correspondence between the concentration of active ingredients detected and that reported on the label;
oxidation lower than 75% of the standard indicated by the Council for Responsible Nutrition (Crn);
PCB levels below 50% of the Crn standard;
dioxin levels below 50% of the World Health Organization (WHO) standard;
the assignment of positive evaluations in all the tests to which the product has been subjected.
The Ifos program awarded 5 stars on all the lots produced by Omegor Vitality
Omega Fatty Acid the Best Supplement
I have been using constant and cycle supplementation of omega 3 fatty acids for 19 years now for me for my cats if you want to administer the omega 3 Omegor for dogs and cats and you do not know the doses, talk to the vet! If you want to buy the best omega supplement, with IFOS certification, I recommend the OMEGOR VITALITY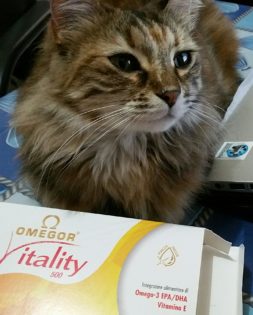 Omegor® ​​Vitality 1000 – Omega 3 – Discounts up to 20% – EPA-DHA – Pure and Concentrated
Food supplement of Omega 3 EPA and DHA fatty acids
UGA Nutraceuticals
Omegor omega 3 fatty acids for dogs and cats

The omega 3 fatty acids Omegor® ​​are an extract ultra-purified and concentrate of long-chain omega-3 fatty acids EPA and DHA, with a minimum concentration of 60% of EPA + DHA in a 2: 1 ratio, obtained by multiple molecular distillations. This process is based on advanced technology through which two important results are obtained:
high concentration of active ingredients (EPA and DHA)
elimination of pollutants such as PCBs, dioxins, and heavy metals, normally present in the marine habitat and in fish.
The omega 3 fatty acids OMEGOR ® comply with the requirements of the European Pharmacopoeia. Their exceptional levels of purity and freshness are verified and certified by IFOS – International Fish Oil Standards.
Omega 3 fatty acids contraindications
The contraindications of Omega-3: – thin the blood, should not be administered together with anticoagulant drugs without first consulting the veterinarian, discontinuing before surgery, animals at risk of bleeding or because they take particular drugs or substances, such as anticoagulants and non-steroidal anti-inflammatory drugs (NSAIDs). At high doses and by administering poor quality products some animals can develop pancreatitis. Possible side effects of omega-3 ad high dosages are:
Gastrointestinal upset with poor quality products

Low pressure
Blood loss/bleeding
Elevation of ALT, AST, and transaminases
Disclaimer: The contents are for informational purposes only and in no case can they constitute the prescription of treatment or replace the specialist visit or the direct relationship with your veterinarian/doctor. All the information reported here derives from Bibliographic sources, personal experiences, and clinical studies in the public domain. All information on special diets and food supplements for pets is for informational purposes. This information serves as a general guideline, cannot be applied to all pets or considered as alternatives to professional advice. These pages include "Homeopathic preparations of efficacy not scientifically validated and without approved therapeutic indications. The products are not intended as a substitute for a varied and balanced diet and must be used as part of a healthy lifestyle.
Biblio
Logas D, Kunkle GA. Double-blinded crossover study with marine oil supplementation containing high-dose for the treatment of canine pruritic skin disease. Vet Dermatol 1994;5:99–104.
Bloom P. Nonsteroidal, Nonimmunosuppressive Therapies for Pruritus. Vet Clin Small Anim Pract 2013;43:173–187.
German, J. Bruce, Cora J. Dillard, and Jay Whelan. "Symposium: Biological effects of dietary arachidonic acid: Introduction." The Journal of nutrition 126.4S (1996): 1076S.
Sinclair, A.J., Johnson, L., O'Dea, K. et al. Lipids (1994) 29: 337. doi:10.1007/BF02537187
Olivry T, DeBoer DJ, Favrot C, et al. Treatment of canine atopic dermatitis: 2010 clinical practice guidelines from the International Task Force on Canine Atopic Dermatitis. Vet Dermat 2010;21:233–238
Scott, D. W., Miller Jr, W. H., Reinhart, G. A., Mohammed, H. O., & Bagladi, M. S. (1997). Effect of an omega-3/omega-6 fatty acid-containing commercial lamb and rice diet on pruritus in atopic dogs: results of a single-blinded study. Canadian journal of veterinary research, 61(2), 145Mueller, R. S., et al. "Effect of omega‐3 fatty acids on canine atopic dermatitis." Journal of small animal practice 45.6 (2004): 293-297.
Brown, Scott A., et al. "Beneficial effects of chronic administration of dietary ω-3 polyunsaturated fatty acids in dogs with renal insufficiency." Journal of Laboratory and Clinical Medicine 131.5 (1998): 447-455.
LOGAS, DAWN, and Gail A. Kunkle. "Double‐blinded Crossover Study with Marine Oil Supplementation Containing High‐dose icosapentaenoic Acid for the Treatment of Canine Pruritic Skin Disease*." Veterinary Dermatology 5.3 (1994): 99-104.
Roudebush P, Polzin DJ, Adams LG, et al. An evidence-based review of therapies for canine chronic kidney disease. Journal of Small Animal Practice, 2010;51:244-252