Potassium Ascorbate with Ribose tumor dog cat
Potassium Ascorbate with Ribose
is a salt derived from vitamin C, which is obtained by mixing a sachet of ascorbic
acid 
(there
 vitamin
, 150 mg) and one of potassium
bicarbonate 
(300 mg). For some years the solution has been enhanced with ribose, a sugar (3 mg).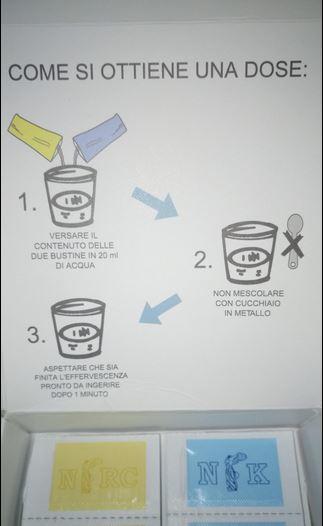 The components must be dissolved in 20 cc of water (about two fingers) without using metal spoons (which oxidizes the ascorbic acid). The solution should be drunk after about a minute (when the slight effervescence stops) and within half an hour of reconstitution at the latest. As a prevention it can be done according to the case
administer potassium ascorbate with ribose to the dog or cat
1 or 2 times a week (morning on an empty stomach), while in the case of cancer the doses range from 2 to 3 per day.
Disclaimer: The contents are for informational purposes only and in no case can they constitute the prescription of a treatment or replace the specialist visit or the direct relationship with your veterinarian / doctor. All the information reported here derives from Bibliographic sources, personal experiences and clinical studies in the public domain. The information disseminated on the site is published after careful checks of the sources, chosen with care and updated and official as far as possible. All information on special diets and food supplements for pets is for informational purposes. This information serves as a general guideline, cannot be applied to all pets or considered as an alternative to professional advice. In These Pages are inserted and presented alternative therapy and homeopathic remedies of efficacy not scientifically validated and without approved therapeutic indications. The products are not intended as a substitute for a varied and balanced diet and must be used as part of a healthy lifestyle