Struvite Bladder Stones in cats Natural Treatment in this article we will talk about kidney stones composed of magnesium, ammonium and phosphate, are formed due to a urinary pH too high PH> 7 and when the urine is very concentrated, cause inflammation of the bladder, blood in urine, painful urination ; in extreme cases can cause a urinary blockage .
Struvite Bladder Stones in cats Natural Treatment  Where are formed
renal bascinet
Uretere
Bladder
urethra
Struvite cat – Symptoms
Blood in the urine
Urinating frequently with little or no urine produced
Urinating outside the litter box or in unusual places
Depression
abdominal swelling
Increased thirst
lack of appetite
He retched
Weakness
Struvite Bladder Stones in cats Dietary Treatment
The struvite stones can be dissolved by feeding the cat with specific diets, commercially different commercial brands that act by dissolving the crystals of struvite in the cat, know that this solution does not cure or definitive, it is important to note that the formation of struvite crystals in cats it is exclusively associated with the power supply that causes the production of acidic urine or alkaline , it is not, however, correlated with pet-food containing high levels of magnesium . (Tarttelin, MF (1987). Feline struvite urolithiasis: Factors Affecting pH urine may be more important than magnesium levels in food. The Veterinary Record, 121 (10), 227-230.)
When cats to feed hunt their prey or when they consume food prepared at home the formation of struvite stones is very rare. The food, the food directly affect PH URINE.
Struvite Bladder Stones in cats Home Care
Check the weight of the cat, the overweight and obesity increase the likelihood of recurrence.
Encourage your cat to drink, the bowls should be placed in every room if possible, the useful water fountain .
Avoid any source of stress, stress weakens the immune system of the cat.
Feed the cat with only wet food, dry food should be eliminated altogether.
Where possible take protein diet, eliminating grains and carbohydrates
Offer small, frequent meals
Helps support a healthy urinary tract and aids in maintaining healthy urinary pH

Ideal for cats with feline urological syndrome and for dogs who are prone to forming struvite stones
Vets Best Urinary Tract Gel Supplement for Cat
Vet's Best Feline Urinary Tract Support helps to support a normal, healthy tract function in cats

Feline Urinary Tract Support uses key natural ingredients to maintain healthy acidic and free-flowing levels in the bladder, helping to reduce cystitis, UTI's and bladder infections
Native Remedies PUTI001 PetAlive for Bladder and Urinary Tract Infections
100% natural homeopathic supplement formulated especially for pets to support bladder health and help with frequent urination, bladder discomfort and urinary tract problems in both dogs and cats.
Struvite Bladder Stones in cats Natural Treatment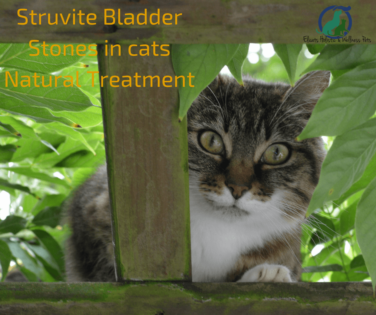 Only Natural Pet Cranberry Wellness Antioxidant Powder for Dogs and Cats
contains a unique set of ingredients that work together to support a healthy urinary tract in cats and dogsc

Ideal for pets prone to recurrent pathogenic urinary tract or bladder problems or struvite crystals in the urine

Supports the immune system in resisting disease
Kidney Rejuvenator – All-Natural Organic Renal Support
Helps rid toxins from the blood and promotes proper kidney function

Cleans the urinary tract, assists in urinary tract infections

Helps eliminate kidney stones
Kidney stones in cats when acidification of urine is required
Acidification of the urine is the most effective way to prevent struvite stones, in fact in the presence of a urinary pH of less than 6.5, the formation of struvite crystals is highly unlikely. At even lower levels, around 6 also increases their solubility, so we could also have a healing effect!
On the market we find both methionine supplements and medicated foods, which contribute to the acidification of urine, but can not be administered for long periods and will never be the final solution.
IMPORTANT:
The pH MUST NOT be constantly acidified, because if on the one hand we avoid struvite crystals, on the other hand we create the terrain conducive to the formation of other types of stones, such as oxalates. We need to be very careful.
Oxalate stones are opposed instead by alkalinizing the urine with potassium citrate.
Never use acidifying supplements and add medicated food as well.
An excellent natural acidifier is vitamin C
Is it possible to prevent kidney stones in cats?
Home care advice for kidney stones in cats, we can help our cat by changing and/or adopting some healthy habits
Offering fresh and clean water, useful are the water fountains
Prefer a low-salt, moist food diet
Avoid stressful situations
Perform periodic urine checks
Stones in the cat – Holistic therapies
Natural care for symptomatology homeopathy, gemmotherapy, homotoxicoogia in case of kidney stones in the cat.
The therapy must be evaluated together with the veterinarian, in order to avoid recurrences, it is important to reduce stress and pain, in addition to drugs we can find in alternative therapies a significant support to defeat the FLUTD, to be discussed with the veterinarian.
Phyllanthus niruri – stone breaker grass CAT



Useful product for the prevention and treatment of struvite stones in cats and reindeer; it dissolves sand in the kidneys, in the bladder, the stonebreaking herb. It has an excellent diuretic, adjuvant and regenerating action on the entire urinary system of the cat. Not recommended during pregnancy and lactation.
RENYLL – Phyllanthus niruri –
Cures and prevents stones and reindeer in dogs and cats – Veterinary phytotherapic diuretic and disinfectant of the urinary tract – Adjuvant, anti-inflammatory and regenerating of the urinary tract in animals.
STRUVIPET
It is a valid adjuvant for the acidification of the urine of dogs and cats. Its high effectiveness is due to the associated presence of methionine and L-ascorbic acid #vitamin C. The two active ingredients act synergistically, creating a urinary environment unfavourable to the precipitation of alkaline salts and bacterial multiplication, promoting the dissolution of already formed stones.
Birch sap
It has diuretic properties and is used as a prevention in urinary lithiasi. BIOALMA WHITE BIRCH SAP BUD EXTRACT (italian) Purest white birch sap, completely alcohol-free and natural good for cats!

Berberis
The homeopathic remedy of choice that should never be missing if our cat is subject to the formation of stones. It is indicated in the treatment of functional disorders of the liver, bile and kidneys, specifically helps to reduce inflammation of the urinary tract and decreases the danger of formation of kidney stones that, if present, are gradually eliminated.
THE CONTENT ON THIS WEBSITE IS TO BE USED FOR INFORMATIONAL PURPOSES ONLY. YOU ACKNOWLEDGE THAT THE CONTENT IS IN NO CASE TO BE USED AS A SUBSTITUTE FOR PROFESSIONAL MEDICAL ADVICE OR ADVICE FROM VETERINARIANS, NOR IS IT INTENDED TO BE RELIED UPON BY ANY PERSON OR ENTITY FOR PURPOSES OF MEDICAL DIAGNOSIS OR TREATMENT . IN NO CASE CAN BE USED AS A PRESCRIPTION OF A TREATMENT OR REPLACE A SPECIALIST EXAMINATION OR THE DIRECT RELATIONSHIP WITH YOUR VETERINARIAN/DOCTOR
Copyright (c) Elicats.it – ​​All rights reserved. Prohibited the partial copy. *We may receive compensation for links to products on this website